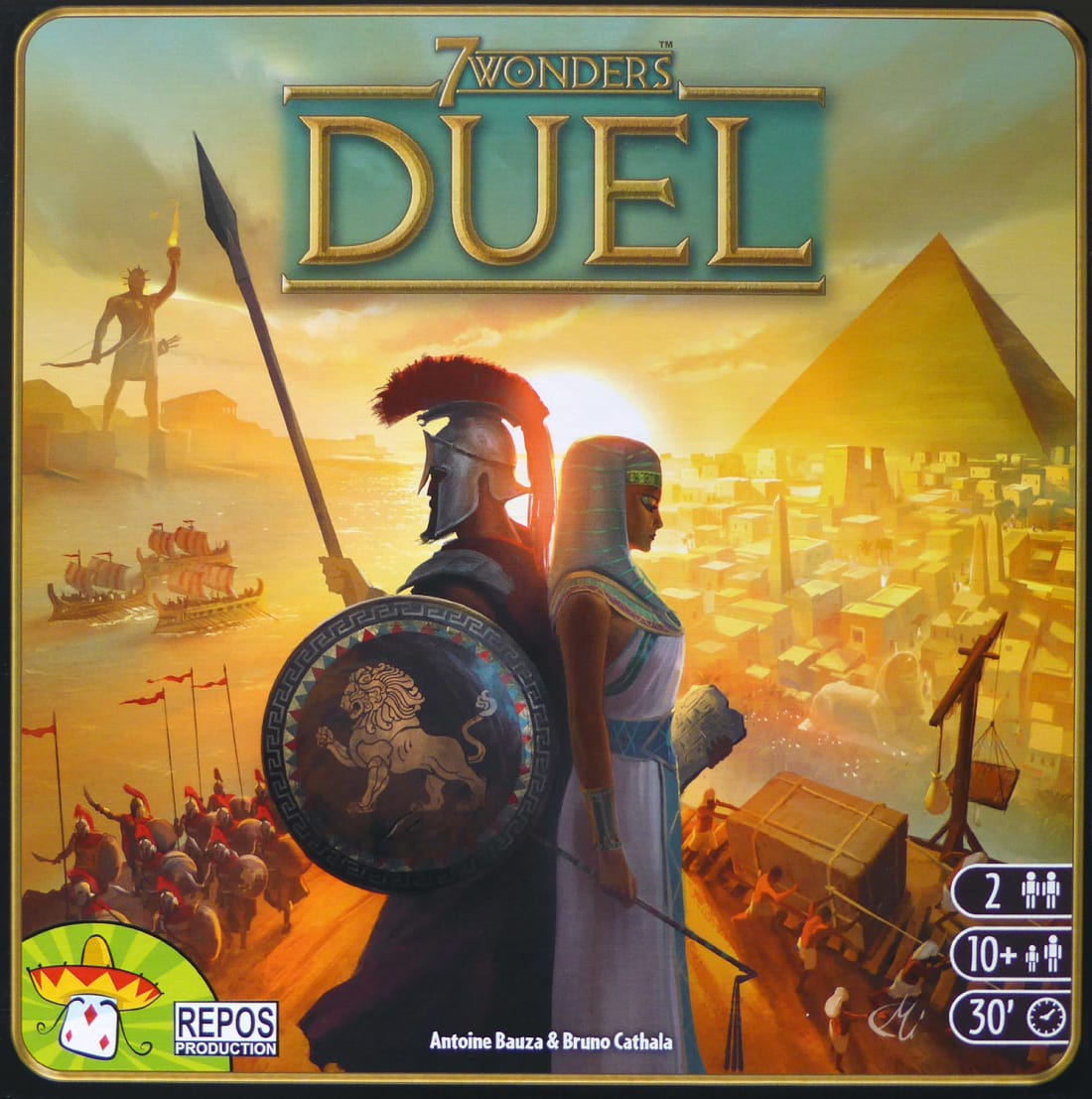 Should you buy 7 Wonders Duel?
7 Wonders Duel is a two player game where you build a civilization through three ages and attempt to defeat your opponent with one of three victory conditions. It takes a couple matches to start to see the strategies one should employ and the amount of luck involved in the game. If you are in the market for a two player game this one should be in your collection. It is enjoyable on many levels and plays very quickly once players get the flow of the game.
I'm sorry to say that this game sat on my shelf for many months before we finally tore the cellophane off and started drafting cards trying out-build each other's civilizations. I haveplayed the game ten times now and am starting to incorporate the pantheon expansion, which I'll write about in a separate review. For around $20 I feel this is one of the best games I could have bought to play with a family member or friend.
Review
While taking notes during a discussion with my wife we agreed on a handful of positive attributes. The game is only for two players. This is important because we have a lot of games that can be played with two players where the optimal number of players is three, four or five. If you know you'll mostly be playing with a spouse or sibling then this game is designed for you.
Three paths to victory is an important aspect to the game. The two players aren't necessarily going after the same thing and it makes the game feel less like a race to the finish. You can win with your military, through science or by victory points. At different moments in a match you may have to change your strategy or start to block what your opponent is attempting to do. Victory points are tallied after you've played through all three ages and you are able to gain them in many different ways, while still going for a science or military victory. So even if you're trying to end the game early you can keep your eye on that final way to win.
7 Wonders Duel is a card drafting game, like its bigger brother 7 Wonders and if you know for sure you don't like card drafting games, then 7 Wonders isn't for you. We enjoyed it because even though there is an element of luck there is enough strategy that one just can not push through without making some sort of effort. And enough can't be said about the game's brevity. Half an hour means that my wife and I will play this game anywhere there is a table while we're traveling, sitting in a cafe or at home.
If there are negatives it depends on your idea of how much luck should play into a game. My wife thinks the game is about 30 percent luck, which means if you're smart enough you can make adjustments to bad cards you're ending up with. Some of that will be covered in basic strategy below. Another negative that will also be talked about below is one of the paths to victory, science, is probably the weaker choice of the three methods of victory.
Basic Strategy
While playing each other we've found a couple of things we each strive to do that help us move closer to victory. Taking advantage of having two turns in a row is a big deal in this game. This can only be done when building certain wonders. It makes sense, the more cards you get to draft the better off you are. My wife tends to build wonders early and I've noticed that when possible you should try to time building the wonders that offer repeat turns. I noticed her repeats would often be wasted while I would notice a card I needed and would time building the relevant wonder. Still, repeating turns doesn't come without risk, not all cards that are drafted are face up, so you may end up in a worse situation when using that strategy.
Another piece of basic strategy is recognizing, somewhere in the first age, the victory condition you will choose. You should never choose science after the first round is over. You will have missed too many opportunities to draft the correct science symbols and progress tokens are most useful when you get them early. But just because you recognize the victory condition you will pursue early, it doesn't mean you won't change your mind in the middle of the game based on how the cards play.
You have to be agile and able to change if the flow of the game dictates it. I will typically peck with military cards in the first two ages, either to keep her from gaining too much of an advantage or because those are simply the best cards to draft at the time. Even though military victory is always on my mind, I don't really strike and decide to go that route until the third age. Sometimes, I'm just building and attacking with military structures to gain more victory points with no intention to win militarily.
What could be better?
This is a difficult question for a couple who enjoy the game so much. The only obvious thing that could be improved is science as a path to victory. Since it's so obvious when an opponent is going for a scientific victory it's easy to block. Strategically, you're much better off getting most progress tokens early, but if you don't that devalues the scientific victory when more powerful cards appear in the second and third ages.
Also, drafting science cards early is dangerous when you should be building up your raw materials and manufactured goods. We find ourselves often discarding science cards for gold or using them to build wonders. The only thing we'd change is making the science bonuses a bit stronger so we find reason to pursue them early and late in the game.
Conclusion and Verdict
The game is still an A+ and it's one that will be played often just because of its brevity and overall fun. It needs to be in any gamer's collection that enjoys card drafting and needs a game that is two players by design.